Jellystone Park Columbus North Named Finalist for Large Park of the Year in the 2023 ARVC Awards of Excellence
November 8, 2023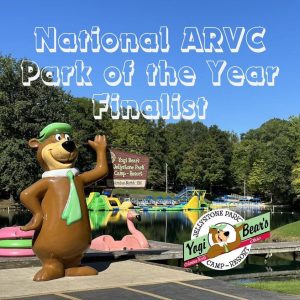 Houston, TX – November 6, 2023 – Great Escapes RV Resorts is thrilled to announce Jellystone Park Columbus North has been selected as one of the finalists for the prestigious "Large Park of the Year" Award in the National Association of RV Parks and Campgrounds (ARVC) 2023 Awards of Excellence.
This esteemed recognition is a testament to our team's commitment to delivering an extraordinary guest experience and all-around excellence in operations, professionalism, marketing, customer service, and industry involvement. Troy Sheppard, Chief Operating Officer of Great Escapes RV Resorts, enthusiastically expressed his sentiments about this milestone: "To be recognized as a finalist for Large Park of the Year is an extraordinary honor for us. It is an acknowledgment of the tireless dedication and hard work of our exceptional team."
Winners of the highly coveted ARVC Awards of Excellence will be announced at the prestigious 2023 Outdoor Hospitality Conference & Expo, in Kansas City, MO. on November 8th. The awards ceremony is a much-anticipated highlight within the outdoor hospitality industry, and we are thrilled to be part of this momentous occasion.
For further details about Jellystone Park Columbus North and the remarkable experiences we offer, please visit our website at www.columbusjellystone.com.